Who are we?
Thaler clinic has been operating successfully since 2004. Regular professional training and education with renowned international experts and the use of modern technology, together with the highest quality materials, are the basis of our professional work.
As nowadays patients are becoming more and more aware of the holistic approach to their health and its connection with healthy teeth, the dental care is becoming less involved with handling the pain, at the same time advancing to a cosmetic specialist treatment.
Our biggest challenge are complex cases that require creativity and knowledge in all areas of dentistry; via individual approach to the patient we successfully address them by involving our entire professional team in their solution.
Our consultation room
Dr. Anita Thaler Djaković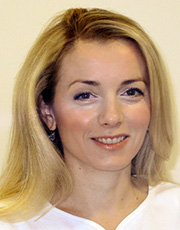 After graduating from science-mathematical gymnasium in Zagreb, she enrolled at the Faculty of Dental Medicine in Zagreb. She finished high professional education in 1999, when she acquired the title of a doctor of dental medicine. Already as a student she was honing up her practical skills and knowledge in a recognized dental prosthesis clinic in the city center.
Later she spent four years in a clinic specializing in implantology and orthodontics, gaining extensive practical knowledge in fields of dentistry mentioned.
After seven years of intensive and successful work she opened her private dental practice in the center of Zagreb.
Shortly after that she obtained the aesthetic dentistry certificate "State of the Art and Adhesive Restorations" from the international expert Prof. Dr. Didier Didischiju in Switzerland.
At the same time she was intensively training in the field of dental implantology and orthodontics. Today she is a regular participant in national and international conferences in the fields of modern aesthetic dentistry, implantology, and orthodontics.
In her private professional practice she uses her broad theoretical and practical knowledge in the specialized stomatological areas, successfully solving complex patient cases with a variety of dental problems, in accordance with the scientific evidence, using evidence-based methods, provided by current-day standards of the dental profession.
She is also a member of the Croatian Chamber of Dental Medicine, Croatian Medical Association and of the Croatian Orthodontic Association.

What have others said about us?
Ivana Paro Lacko

If you want a dentist who will really listen to you and take time for you, Dr. Anita is the right person. She is well aware that every patient is different. In my case, anesthesia does not start to work as fast as in other people. I came to Dr. Anita after going through several traumatic experiences with dentists. She was the first to believe me … As a result the nerve extirpation was completely painless and quick. Once the anesthesia has worn off, I needed no painkillers, amazing in view of previous experiences when it took me a week to come back to normal. I recommend Dr. Anita to everybody, because she is doing her job in a professional and honest fashion. She is just as patient with children as with adult patients.
Afrodita Smrkulj

Dr. Thaler is one of those people whose expertise, patience and ambition inspire trust. With a lot of effort on her part and in a relatively short period of time she has put my teeth in a perfect order, which meant wearing braces to correct my bite, fixing worn-out teeth and installing veneers.  She has a strongly developed sense for aesthetics and she is very thorough in everything she does. She carefully explains the procedure to the client and patiently answers any questions. I warmly recommend her services.
Maja Grahovac

Kudos to Dr. Anita Thaler for her professionalism, friendliness and know-how. Her handling of patients has been exceptionally correct in all respects.
This way I would like to thank her and gladly recommend her to anybody, who may be looking for a quality dentist.
Marijana Mimica Tkalčec

Me and my family have been Dr. Thaler's patients now for more than ten years. During this time we have received a number of health services from the doctor, ranging from surgical interventions to aesthetic procedures. All services have been performed in a high-quality and professional fashion and we are extremely satisfied.
Družina Grubišić

Dr. Anita Thaler has been taking care of our teeth for more than ten years. Since she is extremely reliable, friendly and pleasing, we never had any problems to go and see the dentist, and that means also the youngest in our family. But most of all we have been satisfied with the quality of the work done and we do hope we will stay her clients for a long, long time.
Grubišić family
Melita Ogorevc in Tomaž Danijel

Mrs. Anita Thaler is extremely professional with a lot of knowledge in their field, which manifests itself very successfully in her work with patients. She is very reliable, responsive and accessible.
Jovana Pejić

She is the only dentist who was able to free me from my traumas as regards dentists,
dating back to my childhood, Jovana, 33 years old
Special offers
Rezervirajte termin za kompletno osvježenje vaših zubi. Nudimo Vam paket usluga profesionalnog čišćenja i poliranja zubi te profesionalno izbjeljivanje u ordinaciji. Read more →